15 Creative Shipping Container Modifications You Need to Try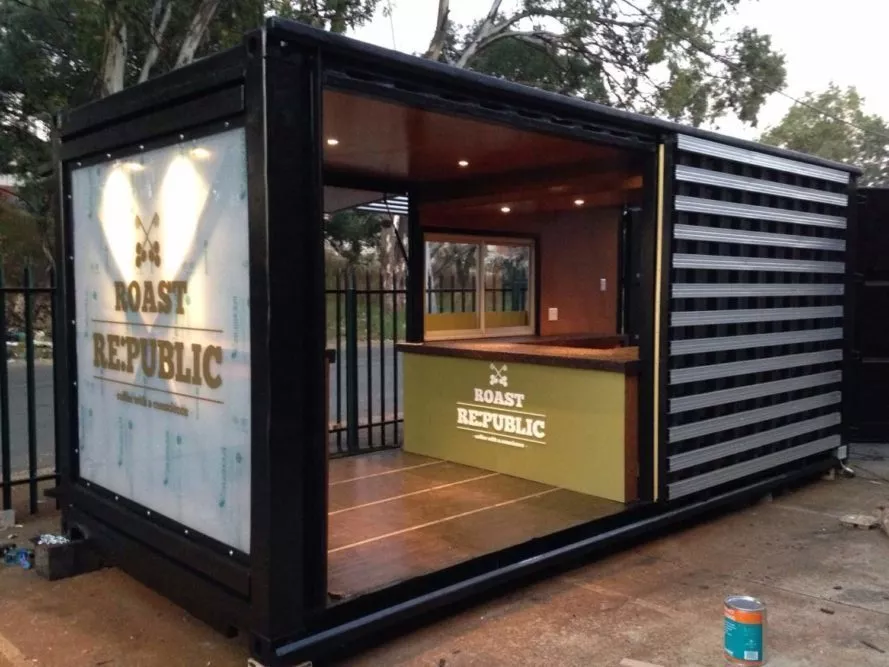 Did you know there are a lot of creative shipping container modifications you can do? You probably think of freight transport when you think of shipping containers, right?
As practical as shipping containers are within the freight industry, they're also used in many innovative ways. Shipping containers are economical, sustainable, and affordable storage, entertainment, and housing options.
There's no doubt about it; shipping container modifications are the latest trend in innovative architectural design. From creative home designs to cool restaurant ideas, it's clear that shipping containers aren't just for transport anymore.
Discover 15 ways you can modify and customize shipping containers right here!
1. Mobile Office
Whether working from home or temporarily working on-site, a shipping container can be converted into a comfortable, functioning office space.
Many employees worked from kitchen islands and dining room tables during the pandemic. While it was fun for a while, many employees struggled to maintain a work-life balance.
Now that working from home seems to be an everyday reality, there needs to be a way to differentiate between work life and home life.
If you're getting tired of taking meetings at the kitchen bench while you're kids eat their breakfast, a shipping container office might be for you.
If your property permits, a mobile office can create the ideal workspace to give you space and, more importantly, privacy. If you live in a hot climate, you can even install A/C.
A mobile office can make switching off from work and relaxing easier, but it offers plenty of other benefits too:
Affordable compared to brick and mortar
Extra space for office equipment
Convenient working environment
Highly customizable
Easily transported to your home
Able to withstand extreme weather conditions
Even in the harshest environments of Antarctica, shipping containers are being used to construct research stations.
The durable nature of shipping container offices also makes them perfect for construction sites. Features include security to protect your assets, a range of sizes to meet individual needs, and can be designed with ramps and footings to suit uneven sites.
2. Tiny House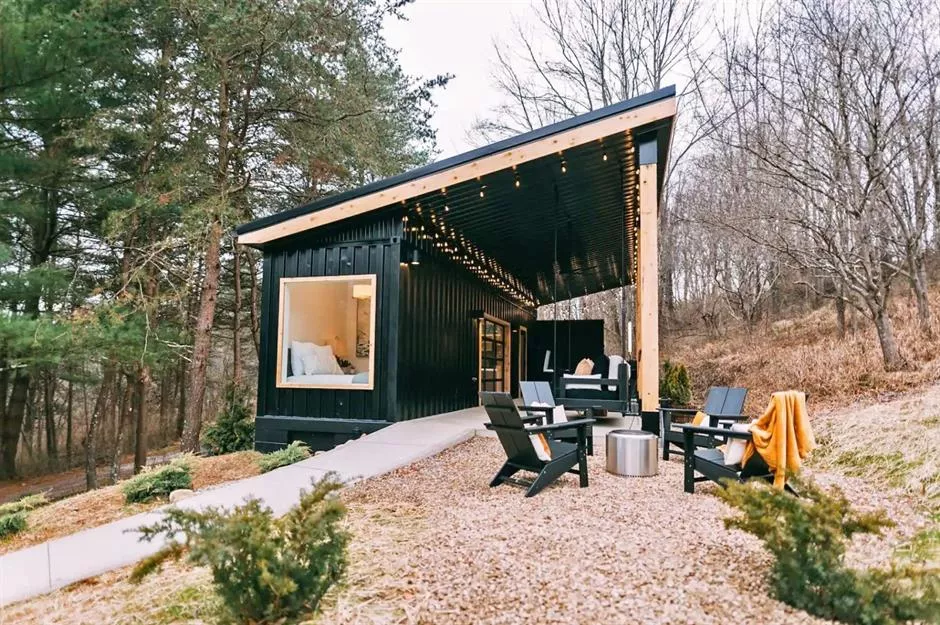 The tiny home trend is booming, becoming a significant social movement across the globe. More and more people choose to downsize their space and live by the "less is more" mantra.
Modifying a shipping container is one of the most affordable ways to live a simpler life. You can transform your shipping container into a fully self-contained home with extensive design qualities for full-time living.
Despite what you may have heard, living tiny doesn't mean you miss out on the comforts of a larger-sized home. You can deck your shipping container home with a complete custom kitchen, laundry cabinetry, and a fully integrated lounge and fold-down bed system.
Install glass sliding doors to create the illusion of more space and to take advantage of any views you may have. Opt to go completely off-grid with solar panels and eco-friendly appliances.
With the housing market skyrocketing the past few years, it makes financial sense to go tiny.
You can still enjoy a shipping container home for those who aren't quite ready for tiny home living. Built from multiple shipping containers, larger shipping container homes are designed to include all the creature comforts found in traditional home construction.
3. Healthcare Storage
Shipping containers provide the ideal solution for healthcare storage. Since the pandemic, the versatility of shipping containers for healthcare usage has become more apparent than ever.
Medical facilities in need of additional storage can utilize shipping containers for easy access to supplies and equipment, including (but not limited to):
Medical supplies
COVID-19 testing kits
Personal protective equipment (PPE)
Overflow stock
Medical administration records
Efficient, organized healthcare storage directly impacts patient care. When nurses spend time searching for lost equipment and medical supplies, it directly impacts the patient experience.
When hospital staff can quickly locate the supplies they need, the more time they spend with patients. Proper storage also reduces lost, damaged, or stolen supplies. It also supports good hygiene.
Shipping containers can support a wide range of healthcare facilities. They include:
Hospitals
Laboratory and research facilities
Medical wholesale and distribution
Nursing homes
Medical supplies and equipment providers
Pharmacies
Disinfection organizations
As you can see, shipping containers aren't just limited to hospitals. These space-saving containers are stackable and include lockable handles. They are also heavy-duty, weather-resistant, and modified off-site to be delivered on-site at your convenience.
4. Event Venue and Storage
Events can be challenging to plan. From logistics to construction, there are many decisions to make and options to choose from. If you're short on time or have a tight budget, why not consider shipping containers?
Shipping containers make excellent pop-up venues for many events, including dance clubs, art exhibits, outdoor theater performances, and live concerts.
With mobile pop-up entertainment, you can move to any location to gain maximum exposure.
In Wellington, New Zealand, shipping containers were used to present innovative live performances. Meanwhile, in Switzerland, an architect inserted discarded shipping containers into an existing building to construct a modern music center.
Are you looking for a converted shipping container for your next event? Look no further. Shipping containers can also be modified to fit your unique storage needs.
Shipping containers are secure, mobile storage solutions with available on-site and off-site storage options. You can easily pack up equipment, seating, and other items for multi-day events and store them safely overnight.
5. Storage Facility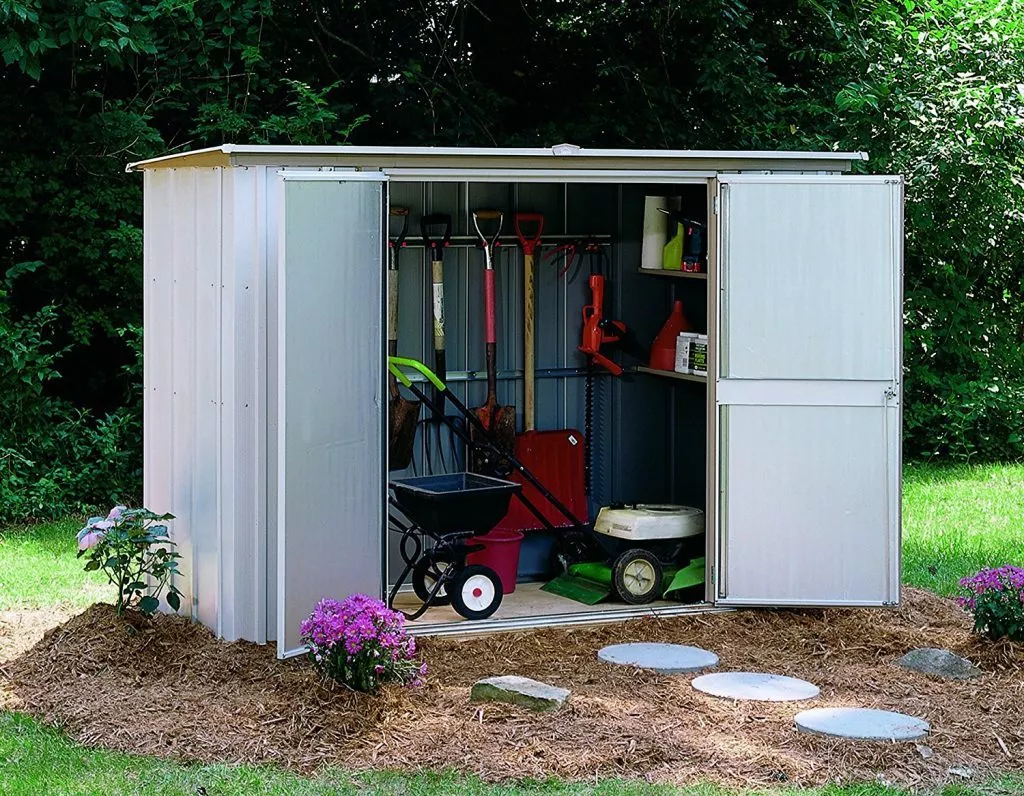 There never seems to be enough space to store everything you own, no matter how much storage you think you have.
A great way to utilize shipping containers is by repurposing them into a storage facility. With a standard modification, you can transform any shipping container into useable space with doors and windows.
Whether you need storage for personal items or business equipment, a container-turned-storage facility is ideal.
A 40ft unit is perfect for seasonal items such as holiday decorations, sports equipment, and even garden tools. Even a standard 20ft unit with a roller door is plenty of space to secure your items.
You can even start your own shipping container self-storage business. There are many reasons why shipping containers are perfect for storage facilities:
Cost-effective
Durable
Dustproof
Secure
Easy to store more oversized items
Retain their value longer
Require little to no maintenance
Flexibility
Using shipping containers for your business allows you to move, add, remove, and rearrange units as you please, giving you much more flexibility.
Americans love to accumulate stuff, so you'll never run out of business!
6. Hotel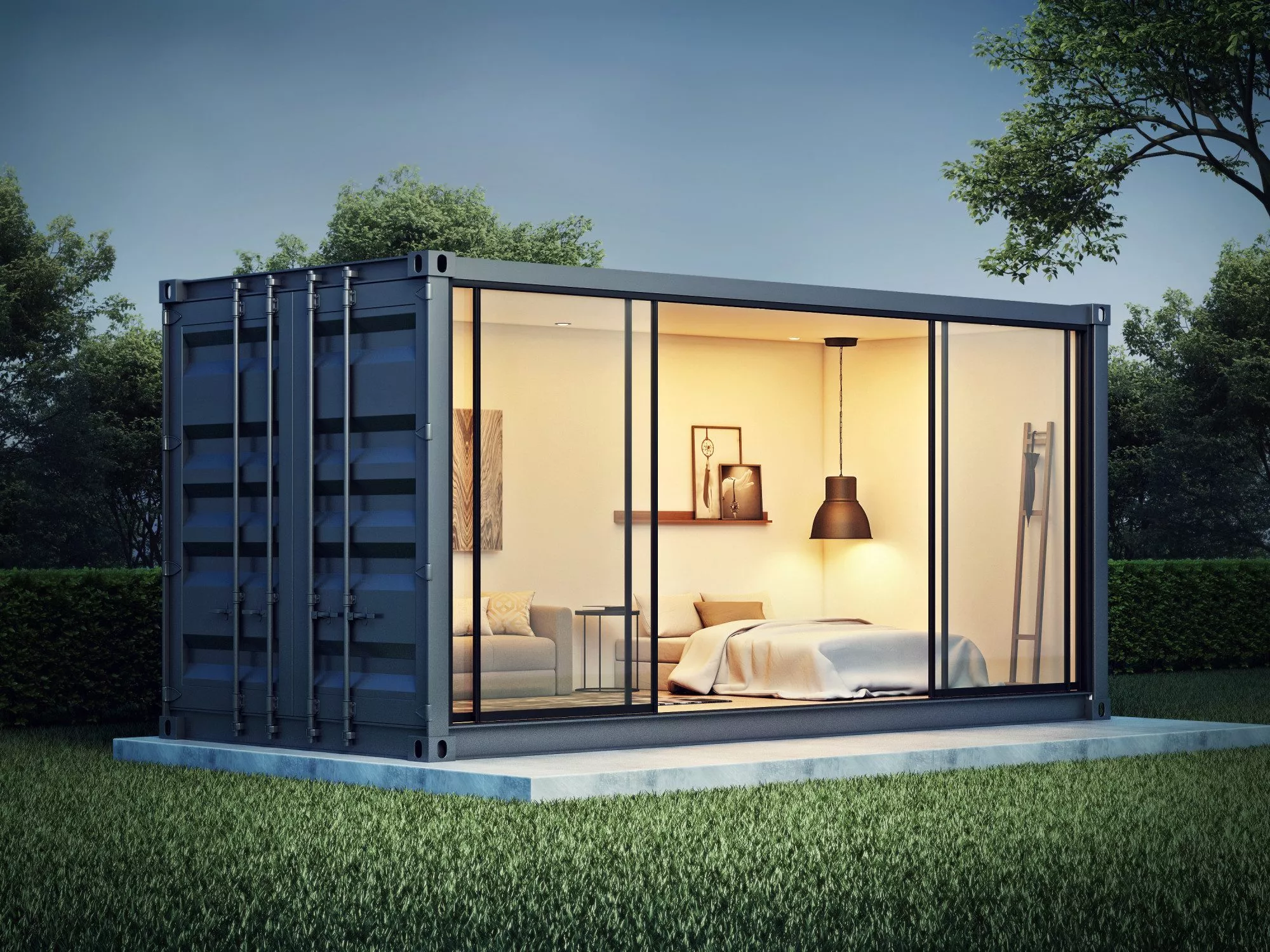 You may not have considered a shipping container for your next holiday, but this might change your mind.
Shipping container hotels are a relatively new but exciting trend across the globe. As they rise in popularity, more and more architects and designers are finding innovative ways to transform storage into luxury.
It sounds crazy, doesn't it? But it turns out there are plenty of fascinating container-turned-hotels available for holidaymakers. The best part is that these hotels are eco-friendly and affordable without compromising on luxury.
For example, the Hotel California Road located in South Australia is a four-star hotel made from 20 recycled shipping containers.
Closer to home is Studio 6, a four-story studio located in Alberta, Canada. It boasts 63 rooms, a fitness area, and ample meeting space. In fact, it's one of North America's largest shipping container hotels.
The hotel also has a full-service elevator made from a shipping container standing on its side, if you can believe it.
In Valparaiso, Chile, Hotel WineBox is a color, eclectic oasis made out of 25 shipping containers. Each shipping container features a private terrace. All the furniture is made from repurposed materials, including decommissioned wine barrels.
7. Apartments
According to a recent study, the U.S. is short over 5 million homes, with builders struggling to make up the difference. Can shipping containers be the answer to the housing crisis?
Absolutely. Affordable, decent housing is needed in city centers where prices are too high. More often than not, people are being priced out of the market due to overseas investors.
Shipping containers can be transformed into affordable apartment complexes that provide safe housing for hundreds of people.
Shipping containers are built to be strong, secure, and functional. The best part is containers are built in half the time of traditional brick and mortar construction.
That's because most container apartments take advantage of a modular construction process. This means they are built off-site and later bought on-site, where they are assembled, connected, and finished.
In months, you could transform vacant land into an affordable housing complex. Although there is no quick fix to the housing crisis, with so many unused shipping containers globally, it makes sense to take advantage of them.
8. Pop-up Bar and Restaurant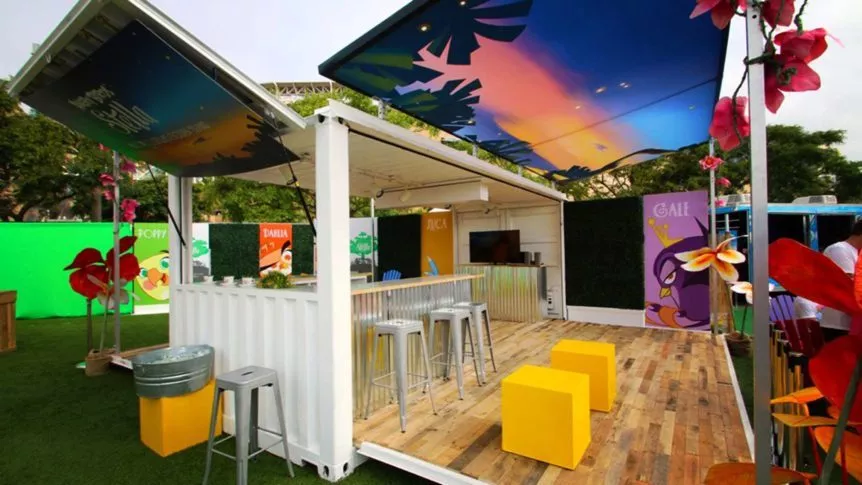 Shipping container bars and restaurants have been popping up across the globe, including the U.S., U.K., and Italy. Pop-up containers offer attractive alternatives to brick and mortar establishments.
With endless design modifications, you can bring out your creative flair and create a space to entice your target market.
Due to their size, shape, and durability, shipping containers are ideal for pop-up style eateries. They can be painted in any color and fitted with open hatch windows and awnings.
And don't worry; your shipping container can be kitted out with the latest equipment to cook food and serve drinks.
Here are five reasons why you should use modified shipping containers for your pop-up bar or restaurant:
Creative flexibility
Strength and durability
Cost-effective
Eco-friendly
Can be transportable
But it isn't just pop-up bars and restaurants. Cafes, coffee shops, bistros, and concession stands are popping up all over the place.
With the right fittings, your pop-up eatery can also travel to local events, fairs, and trade shows. For more inspiration, check out the world's most incredible shipping container restaurants.
9. Bookstore
If you're a bookworm, this shipping container modification is for you. People love reading books to gain knowledge and discover new information.
Shipping containers are ideal for bookstores as they're affordable, easy to transport, and come in many different sizes. You can transform one container into a cozy nook or add levels with multiple containers depending on how much space you have.
In Christchurch, New Zealand, independent bookstore "Scorpio Books" built a shipping container bookshop after the region experienced a massive earthquake in 2011.
Libraries are also being transformed into shipping containers. This is helping make books more accessible for disadvantaged children in poorer countries. They are also an ideal space to promote literacy across the globe and rekindle the joys of reading.
The U.K. charity BookAid converted a 40ft shipping container into a library filled with 5,000 books. They sent it to Rwanda to give children and the community the ability to learn and improve their literacy skills.
10. Home Swimming Pool
One of the coolest innovations in shipping container modifications is their transformation into home swimming pools. Shipping containers are the ideal shape and depth for a pool, given their rectangular design.
In-ground swimming pools can cost you between $40,000 and $100,000, depending on the type and size. But the average shipping container pool only costs between $28,000 and $50,000, depending on the size you choose.
But don't worry; shipping containers are thoroughly cleaned and de-rusted before having waterproof lining inserted. High-quality pools have fiberglass inserts which often have inbuilt seating.
One of the most significant advantages to a shipping container pool is they're easy to transport and install. If you decide to move, you can take your pool with you. You can't say that about an in-ground pool!
But it's not the only benefit. Container pools are also:
Ready to use right away
Quick and easy to install
Perfect for a lap pool
Any style to suit your home layout
Cheaper than an in-ground pool
A shipping container pool might be the perfect way to keep cool without breaking the bank for people living in warmer climates.
11. Gym/Yoga Room
Shipping containers are incredibly durable and secure, making them ideal for a home gym. If the pandemic has taught us anything, it's that gyms are fertile grounds for germs.
The solution? Own your very own home gym. Shipping containers are cost-effective, easy to customize, and are ideal for storing all types of gym equipment, including weights.
Personal trainers can utilize shipping container gyms to conduct services in their personal space.
Depending on the mobility of your gym, you can potentially travel to clients instead of having them travel to you. Some people will like this because it's not crowded like a regular gym.
Converted shipping containers would also suit a yoga studio. Yoga instructors can offer small yoga classes to neighbors and private clients.
Generally speaking, renting yoga spaces is expensive. Shipping containers lets you cut down on costs.
Install glass sliding doors and position your container away from heavy traffic for the ultimate serenity. A downward dog will be more relaxing when looking out to nature.
12. Emergency Hospital
When the pandemic hit, medical facilities were overrun. As hospitals grappled worldwide with shortages of ICU space, architects and engineers were figuring out ways to expand hospital capacity quickly.
The solution? Shipping containers.
Turin, Italy, was one of the first places to utilize shipping containers as COVID-19 intensive care units.
The temporary two-bed units were quick to set up and contained all the equipment needed to treat ICU patients, including ventilators, IV fluids, and monitors.
The units were connected via inflatable corridors that served as storage units and changing rooms. Each shipping container had glass windows to allow visitors to get closer to their loved ones without the risk of infection.
Containers were used as emergency hospitals, pop-up ICUs, and testing clinics in some of the hardest-hit countries. These units were quick to mount, but they were also just as safe as a regular isolation ward.
Unlike hospital tents, shipping containers possess negative room pressure. In other words, viruses cannot escape and spread. Shipping containers are also easily transportable and can be moved to fight the virus as it travels into other regions.
The success of pop-up hospitals has since led to many countries using containers as mobile testing and vaccination centers.
Who knew the humble shipping container could provide urgent health care during a pandemic!
13. Greenhouse
Grow all year round with a shipping container greenhouse! Shipping container farms are an innovative and relatively new concept to the industry.
For many years, people have been searching for ways to grow fresh produce and flowers in urban areas. While shipping containers might not be the first idea you had in mind, they're one of the best.
Converted shipping containers are ideal for avid gardeners with limited yard space. A shipping container is clean, insulated, and can regulate the internal conditions for optimum plant growth.
With a complete indoor vertical farming system, you can produce fresh and healthy plants globally, including fresh herbs, leafy greens, and root vegetables.
These revolutionary farms are:
Compact
Water-efficient
Climate controlled
Automated
Cost-effective
Shipping container greenhouses are spacious, customizable, and affordable. The good news is that because it is classified as a temporary structure, you generally won't need planning permission (knock on wood).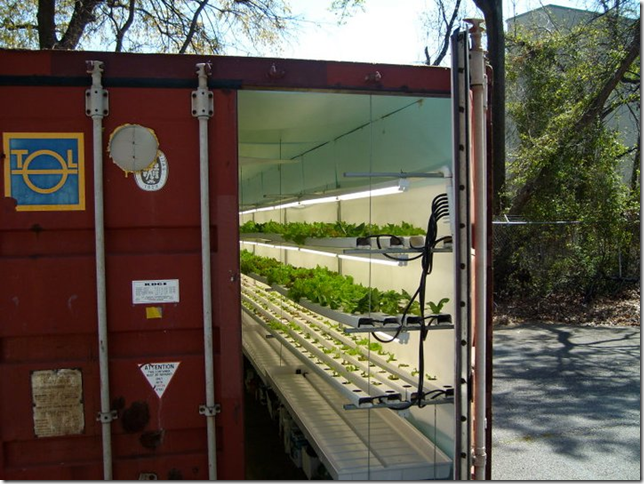 14. Dog Grooming Salon
Shipping container ideas don't get much more unique than this one! Keeping your dog groomed is an essential part of pet ownership. But not all dogs enjoy a visit to the groomer.
Creating a safe space on your property to groom your dog doesn't have to break the bank. You can affordably transform a 20ft shipping container into a fantastic grooming retreat. Install large windows into the side of your container to obtain natural light and ventilation.
A well-ventilated space is essential when dealing with wet dog smells and high moisture content in the air.
The interior is completely customizable, too. Include a big T.V., comfortable seating, a nice deep tub, and plenty of dog toys. Your dog will feel far more comfortable being groomed by a loved one in a space that feels like home.
Pampered pet grooming services are growing in popularity worldwide. Why not consider turning your salon into a business?
A well-converted shipping container is guaranteed to impress and attract clients. To create a mobile container business, install wheels to move around and meet clients on the road.
15. Disaster Shelter
Whenever a natural disaster like an earthquake or tornado hits, there are limited options for shelter. Knowing that they have a safe space to retreat is a necessity for many people.
Shipping containers are sturdy and reliable, making them a great option to take cover. They're also fireproof and well insulated, which is vital if you want a shelter that can withstand extreme weather conditions.
Of course, they don't come with any amenities. You will need to install a water supply and a heating and cooling system. Just knowing that they have an alternate option during a natural disaster is more than enough for some people.
You can also utilize shipping containers for emergency housing. When a natural disaster strikes and you lose your home, you can transform a shipping container into temporary accommodation while you re-build or consider your options.
Create Custom Shipping Container Modifications With Dry Box
When it comes to shipping container modifications, the possibilities are endless. At Dry Box, we can customize and modify shipping containers to suit your design needs.
Whether you're after cool home designs or special projects like concession stands and pop-up bars, Dry Box has the expertise to make any modifications you need for your container.
Not only do we have the finest containers, but we also have the best delivery equipment available. We will customize your container off-site and deliver it to your home or workplace.
As the container industry continues to evolve, so do we! Let's turn your unique shipping container modification ideas into a reality.
Get a quote today.