Types of Shipping Container Modifications for Your Business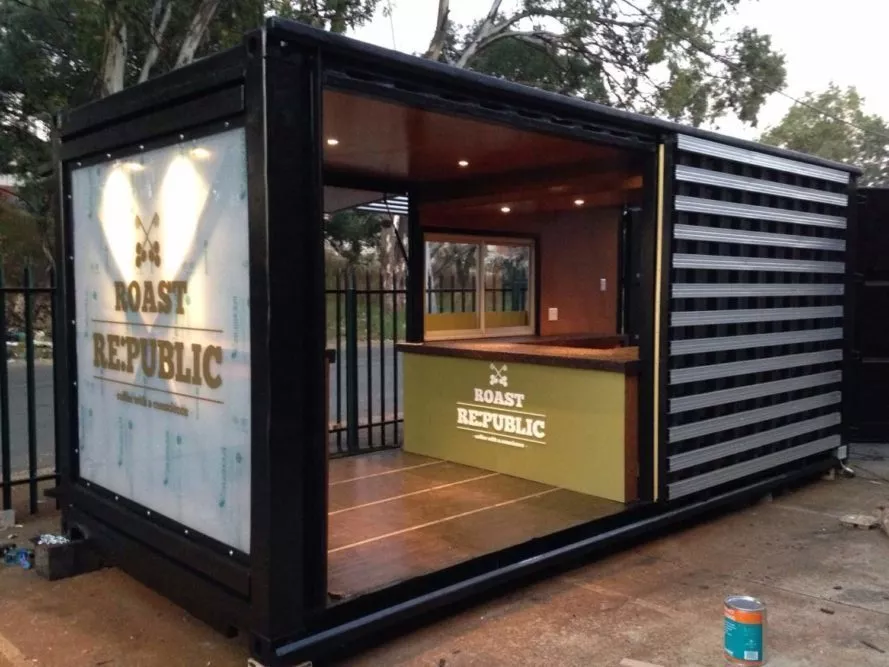 Did you know millions of people worldwide live, work, shop, and eat inside shipping containers each day?
It's true! With about 14 million out-of-service shipping containers in the world, people have started getting creative. It turns out there's a lot you can do with a giant steel box!
Shipping containers remain one of the best ways to store and transport goods around the world. They are durable enough to withstand long journeys but light enough to lift with a crane or forklift.
But the potential for a shipping container extends far beyond shipping goods and services. Shipping container modifications range from installing a single door to building full-blown container cities.
Shipping container manufacturers build them with indestructible CorTen steel. They are low maintenance, portable, recyclable, secure, and inexpensive.
When you sit down and crunch the numbers, you could lose thousands by NOT using a shipping container for your next project.
Keep reading if you're interested in using modified shipping containers for your business. We'll also discuss everything you need to know about obtaining a modified shipping container based on your goals and budget.
Ideas for Shipping Container Modifications
When it comes to modifying shipping containers, the sky is the limit. You can think of a shipping container as the blank canvas for any building project you can imagine.
Here is a list of unexpected and creative shipping container modifications to spark your imagination:
Vacation rentals
Restaurants
Pop-up shops
Portable offices
Fire training facilities
Swimming pools
Scroll down for a more in-depth look at creative shipping container modifications. We will include tips and tricks for how you can use modified shipping containers in your business!
Benefits of Modifying a Shipping Container
There are all kinds of reasons to use modified shipping containers for your next home or business project. Like we mentioned, shipping containers are durable, cheap, and inexpensive — and that's just the beginning. Let's get into the benefits.
Reusing a Shipping Container Is Good for the Environment
If you use a used shipping container to build your house, office, or business, you could be saving it from a landfill. You will also be conserving all the traditional building materials you would have otherwise used. If you really want to be green, try to purchase your shipping container locally.
You Can Stack Shipping Containers
Shipping containers are made to be stacked on cargo ships. If you want to build a larger home or business, you can combine shipping containers to create a larger space. If you need to expand in the future, just add more containers!
Shipping Containers are Durable, Secure, and Weatherproof
Shipping containers can endure long distances. This means they have to withstand rain, water, earthquakes, or anything else the forces of nature may throw at them — all while protecting the cargo inside.
Shipping Container Buildings Are Cool
Shipping container houses and business are just plain hip. No matter how you decide to arrange, decorate, or paint your modified container, you are going to end up with a unique space that gets attention.
Standard Shipping Container Modifications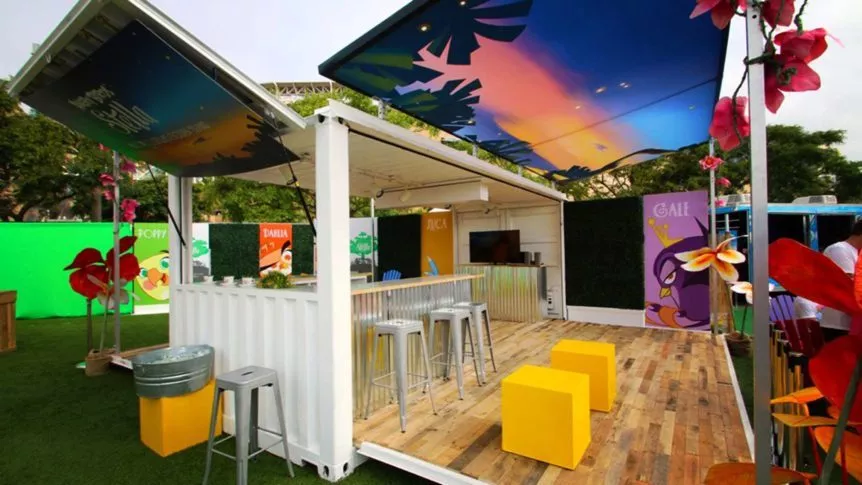 Some types of shipping container modifications are more common than others. We call these standard shipping container modifications.
Standard modifications usually involve improving the shipping container's functionality as a storage unit or means of transportation. This may include improving access to the unit by installing doors or improving security with upgraded locking systems.
You may be able to buy a shipping container that already has the standard modification you want. If not, the turnaround time to do standard mods is usually very fast. Examples of common changes include installing garage doors, man doors, or roller doors.
Portable Offices
A more complex but prevalent shipping container modification is the portable office. Office containers make excellent temporary offices on job sites, construction sites, or even as a home office in your backyard.
You can buy or rent a pre-fabricated shipping container office or buy a shipping container and modify it yourself.
Here are some examples of the types of portable office containers you can buy:
Guard shacks
Office cubicles
8 ft x 20 ft ground level office
8 ft x 40 ft ground level office
Office containers come fully-equipped with air conditioning, electric heat, electrical outlets, high-security locking mechanisms, and weatherproof designs. Optional add-ins include desks, tables, filing cabinets, and shelving.
Getting Permission for a Portable Office
Since shipping containers don't have foundations, they are usually classified as temporary buildings. Therefore, you probably won't need to get planning permission.
Local authorities may require permission under certain circumstances. If you plan to place your portable office in a conservation area or plan to install plumbing, you could be required to get permission first. It's always good to check with your local planning office before buying a container office.
Choosing the Site for Your Portable Office
There are a few things to consider when it comes to where you will use your portable office. First, the ground needs to be solid, flat, and hard. Dry Box mobile offices sit directly on the ground so they require little site preparation because they do not need stairs or ramps.
The site must be accessible by a semi-truck or tilt-bed truck, so please consider the route to the site. The truck will need to park on hard ground for its stabilizers. You will also need to make sure there is plenty of clearance surrounding your portable office.
Custom Shipping Container Transformations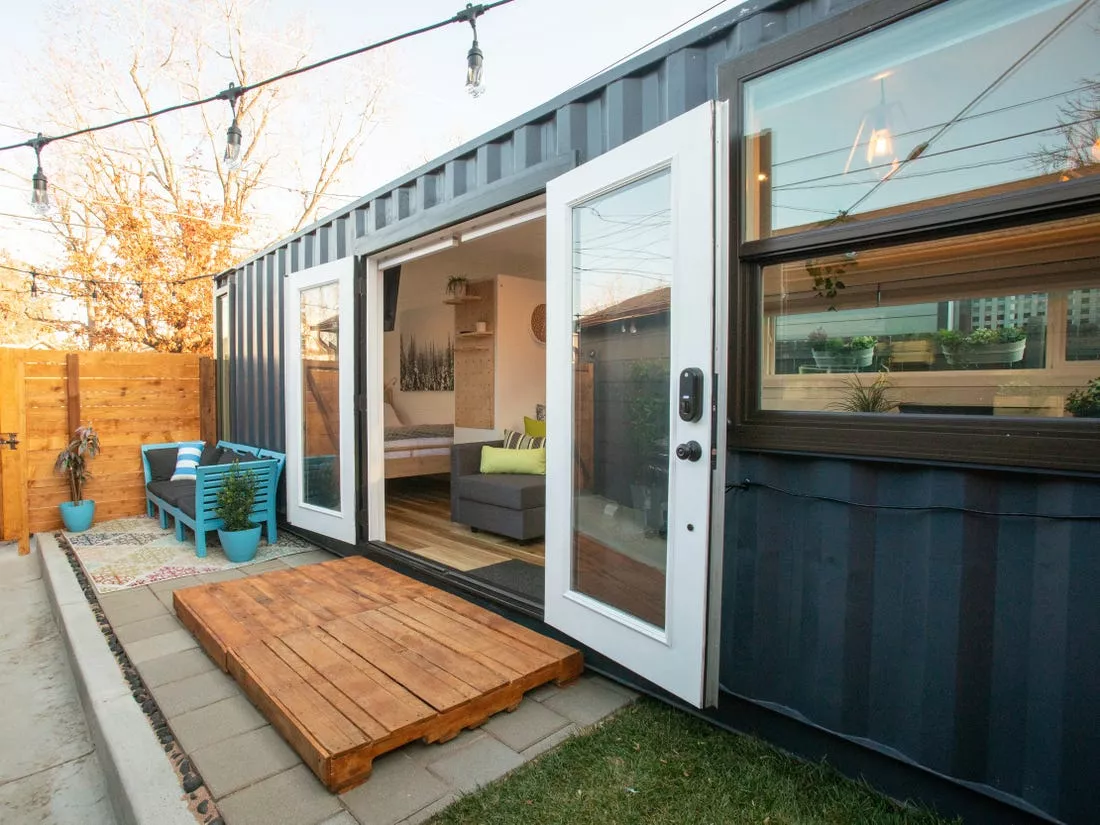 Shipping container special projects — nicknamed "Cargotecture" — is where you can let your imagination run wild. Creative container transformations include everything from simple above-ground storm shelters to full-blown shopping centers. Let's explore some of the most popular custom shipping container transformations.
Fireworks Stands or Concession Stands
Converting your shipping container into a firework stand or concession stand is an easy project that will pay off dividends in the long run. It will help your school, church, or business have a secure place to sell goods for years to come.
First, shipping containers are more durable than tent stands. You can store them between uses without worrying about damage or deterioration. Since they are portable, you can open your stand at all kinds of events, activities, and festivals.
This project involves installing a door on one end and fabricating a liftable concession stand window. The modifications don't have to stop there. You can add shelves, tables, electrical outlets, air conditioning, etc.
Storm Shelters or Underground Bunkers
Strong and secure, shipping containers can make excellent storm shelters and underground bunkers. If you want a protective space against natural disasters, terrorist attacks, or any unplanned attack, look no further than a modified shipping container.
You can design your container with extra security features for your safety. You can also design your safety shelter with the comforts of home to help your family relax while seeking protection.
Class B Magazines
A Class B Magazine is a special storage unit for dangerous explosives. The United States Bureau of Alcohol, Tobacco, Firearms, and Explosives has specific requirements for the construction, locking, and distance of explosives magazines.
Shipping containers are so strong that you can convert them into ATF-compliant storage units for Class B explosives. Class B explosives include propellant explosives, some smokeless propellants, photographic flash powders, and some special fireworks.
Conference Room Think Tank
A conference room think tank could be just the thing to take your business to the next level. Think tanks are laidback meeting spaces designed for, you guessed it, thinking! Studies show that when workers have unstructured time to think, there will be marked increases in productivity and creativity.
If your business is in a rut, a think tank could the place to foster creative ideas and launch the next phase of your business. You can make your think tank as large or small as you like. You can park it on company grounds or use it as a corporate getaway site.
Equipment Enclosure or Storage
Does your commercial facility need a way to protect large outdoor equipment? You can lock up your mechanical systems and expensive machinery inside a modified shipping container.
You can custom-fit containers to cover machinery or use a modified shipping container as an ultra-secure storage shed. Your equipment will be safe from intruders with any of the special locking mechanisms available.
Event and Venue Storage
Are you a wedding planner, a traveling musician, or own a business that moves from place to place? Investing in a modified shipping container for your transportation needs could save your money over time and help your business grow.
Firefighter, Law Enforcement, and Military Training Towers
A training tower is a building used to replicate real-life situations that firefighters, law enforcement officers, and military members may find themselves in. Whether it's a fire, a raid, or another dangerous situation, they must have a safe place to practice.
Training towers made from shipping containers are strong enough to withstand live-fire training to provide a stable training environment for years. We can modify containers to meet your department's training needs or training style.
Grain Bins
People use grain bins to store dry grains like corn, soybeans, and wheat.
Repurposing a shipping container as a grain silo can be an effective and inexpensive way to store and transport your farm's dry grains. A standard 20-foot container can hold about 24 tons of corn, making it ideal for farms with smaller volumes.
Pop-up Businesses
There is no limit to the kinds of businesses that can operate out of shipping containers. Clothing stores, book stores, souvenir shops, hair salons, art galleries, bars, and restaurants — the possibilities are endless!
Not unlike food trucks, shipping containers can be a terrific option for small businesses that want a compact, or even portable, design. Or you can connect multiple containers to create a large, permanent space. Opening your business in a shipping container is a great way to stand out from the competition and give your business a modern flair.
Swimming Pools
Did you know that more and more homeowners are converting shipping containers into swimming pools for their backyard? Your shipping container pool can either be above ground or below ground and is a cheap alternative to the standard swimming pool.
Fun modifications to shipping container pools are endless. You can install a "mermaid window" on the side of your above-ground container pool. Design your pool with a retractable cover, awnings, steps, or whatever your heart desires.
Shipping container pools add a unique touch to your home and can even increase your home value!
Tiny Houses or AirBnbs
Shipping container houses have grown in popularity alongside the tiny house movement over the last decade or so. The trend is only expected to grow. As people look for affordable housing options, converting a shipping container into a home or vacation rental has an undeniable allure.
There are all kinds of resources online like YouTube and Pinterest to give you ideas for your shipping container house. You'll find innovative solutions for storage, indoor/outdoor living spaces, and even off-the-grid and nomadic living.
Additional Restaurant Seating
With the onset of the COVID-19, many restaurants had to expand their outdoor seating capacity to accommodate guests safely. We began to see shipping containers used as covered, curbside dining.
Using a shipping container as a covered outdoor space at your restaurant will provide a hip dining experience your guests will remember. It's also a more inexpensive way to expand your business than adding-on or building a new location.
Multi-Family Homes, Commercial Shopping Centers, and Container Cities
One fantastic thing about shipping containers is that they are stackable! Shipping containers are solid and can stack eight containers high when fully loaded.
Stackability means you can do large-scale projects with shipping containers. Some massive projects completed with shipping containers include multi-family homes, apartment complexes, shopping centers, and even "container cities."
Tulsa, Oklahoma has a shopping mall called The Boxyard that is made up of 39 repurposed shipping containers. The Boxyard is home to 19 businesses, including a bar, a barbershop, an ice cream parlor, and a skateboard store.
Container Cities have been popping up all over London since 2001. A Container City is a large, multi-use building with studios, retail space, and apartments — all made from shipping containers.
As you can see, the possibilities are endless for shipping container modifications. What are your plans?
DIY Shipping Container Modifications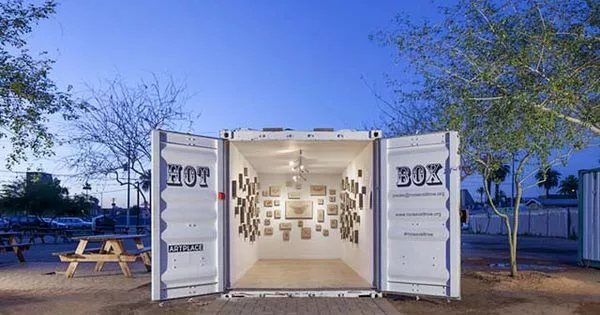 You can hire a company like Dry Box to professionally modify your shipping container, or you can do the modifications yourself. People choose to do container modifications themselves to save money or simply for the enjoyment!
If you are planning to DIY your shipping container modification, here are some tips for making your project go smoothly.
Prepare Your Design First
We recommend finalizing all your plans before you spend a single dollar. Take your time and gather inspiration. Do some doodling and figure out how much space you'll need, how you want to lay out your floor-plan, and how you'll want everything to look when it's complete.
You'll need to think about logistics too. How can you lay out your kitchen so that you have enough space to open and close the oven? How can you maximize window space to let in the most amount of light?
When you feel happy with your plans, make a list of everything you'll need to purchase to complete your project and set a tentative budget.
Next, we recommend consulting with a professional. Show him or her your plans and ask for their opinion. They will be able to tell you if any part of your plan would compromise the structure of the container, spot any logistical errors, and help you tweak your budget as needed.
Choosing the Right Container for Your DIY Project
Get your project off to a good start by choosing a suitable base. Using the perfect shipping container from the get-go will save you lots of time, money, and hassle later on.
First, think about the height of your container. If you plan to use your container for residential or retail use, try to go with a high cube container to allow for plenty of headroom. High cube containers are generally 9'6″, or one foot taller than standard-height containers.
Next, decide if you should purchase a new or used container. If you want to keep repairs to a minimum, it may be worth buying a new or one-use container.
Shipping containers are incredibly durable, but that doesn't mean any used container will do. A used container was probably in service for seven to nine years. If it carried international freight, there's a good chance that the container has seen better days.
Before buying, find out how many trips your container made and if it carried hazardous waste. Don't forget to inspect the quality of the door, the floor, weatherproofing, and overall soundness of the unit.
Taking time and choosing a quality used container can save you lots of money in repairs later.
Modify Your Container Using High-Quality Parts
When building anything, it's essential to use high-quality materials to ensure your investment will last. Shipping containers have their own set of requirements for high-quality modifications.
First, because containers are steel, they conduct a lot of heat. You must make sure your climate control features are in excellent condition. Proper sealing, insulating, and ventilation will be critical.
Also, please don't skimp on your HVAC system — you can thank us later!
Second, as you cut into the container to install windows and doors, you will need to reinforce structural elements so the container doesn't lose its shape.
There are many container mod accessories you can purchase that are made specifically for these projects. Accessories include sliding glass doors, barn doors, picture windows, double-pane vinyl windows, skylights, vents, insulation, interior sheeting, and more.
The Cost of Modifying a Shipping Container
How much do modified shipping containers cost? Like the variety of modifications themselves, the costs can vary wildly. It isn't easy to pinpoint an exact amount with so many factors to consider.
Here are some general price ranges for complex shipping container modifications.
A basic container home or small business will typically run $10,000 to $35,000 from start to finish. A larger house or facility with lots of features will likely cost in excess of $100,000. A shipping container swimming pool costs approximately $20,000 to $50,000.
Basic modifications such as installing a door or creating a storm shelter can be as little as a few hundred dollars (minus the price of the container) up to $10,000 or more depending on the quality of materials and number of features.
If you are experienced and decide to DIY your shipping container modification, you may be able to shave off some of the expense. If you're inexperienced, we recommend hiring a professional to get it right the first time, which will ultimately save you money. Get a quote from Dry Box today.
Begin Your Custom Shipping Container Modification With Dry Box
There is no limit to what you can create when it comes to shipping container modifications. Whether you need a standard mod or something more extreme, we can customize any shipping container to fit your needs.
We not only carry a wide variety of quality shipping containers and pre-modified containers, but we can also customize your container off-site and deliver it straight to you.
Ready to get started? Contact DRY BOX for all your modified shipping container needs. We are here for you from initial consultation to delivery of the finished product.
Our shipping container professionals look forward to helping you. Call us at 509-606-2699 or visit us in person to check out our selection of in-stock shipping containers.