15 Interesting Shipping Container Business Ideas
Do you need helping thinking of shipping container business ideas?
Have you ever considered using a shipping container to start your own business? This idea may sound surprising, but many small businesses use these containers to start and maintain their businesses.
These containers are aesthetically pleasing and eco-friendly. Their industrial-grade steel exterior can withstand even the most inclement weather conditions.
If you are interested in just what business to open in a shipping container, then you came to the right place! This guide will discuss 15 different shipping container businesses and who you can reach out to buy a container today!
1. Coffee Shop Shipping Container Business
There is no denying that when people go to a coffee shop, they are not only there for delicious coffee, but they are also there for the vibe and aesthetic of the environment. Buying a shipping container for a coffee shop gives you a cheap and versatile building option that can set you apart from any other brick and motor coffee shop.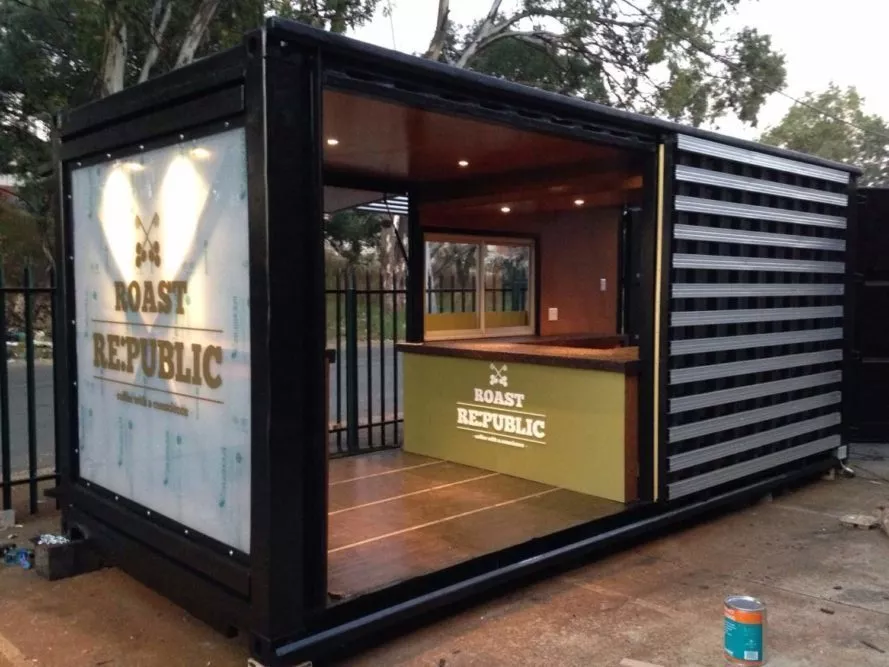 With a modern and unique design paired with beautiful furniture and great art, your very own coffee shop with being one that will be the most Instagrammable!
Who doesn't like to take a cute selfie in front of or inside a unique container coffee shop? Your customers will be happy to come to your coffee shop every day, and they will want to spread the word about your unique concept!
2. Beach Bar
If you live in an area close to the beach, you can create a cute beach bar out of your shipping container. In addition to selling alcoholic beverages for beachgoers to enjoy, you can also sell snacks and other food items.
Many people forget to bring food or drinks to the beach, so your shop will be a huge convenience for them. If you would like, you could also sell sunscreen, sunglasses, beach towels, and other essentials that some people forget to pack.
3. Office Space
We now live in an era where more and more people are starting to work from home. Not everyone likes to stay at home and work, especially if other people live in their homes, kids, or pets that can easily distract them.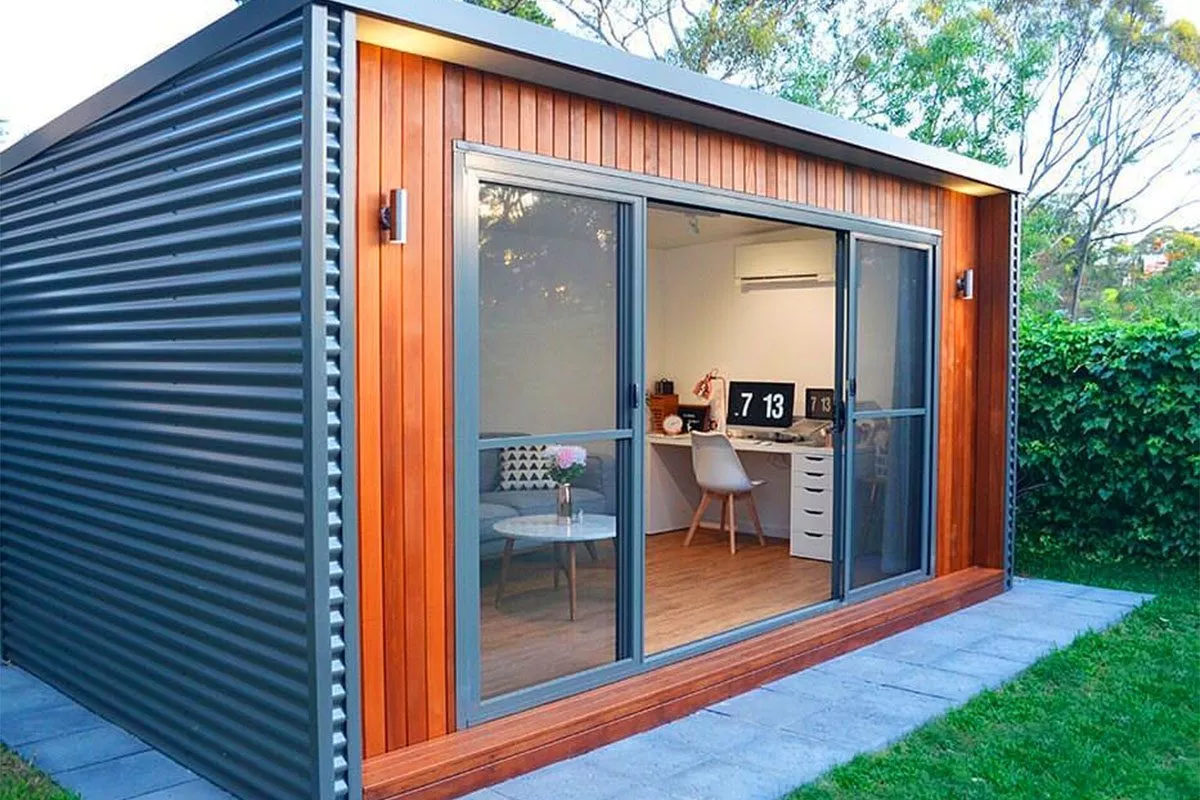 The average cost to rent office spaces in the United States is between $8.00 to $23.00 per square foot. Most people need about 150 square feet to run their business effectively, so they most likely pay an average of $1,200 a month to rent office space. That cost sometimes does not cover the cost of utilities, so you can just imagine how much people pay a month to have office space.
You have the opportunity to set up unique shipping container office spaces for people to rent out. You can either create this office space for yourself or build on some land in your city and open the opportunity to other people.
4. Book Store
Like a coffee shop, book stores have ambiances that draw people in to check them out. You can serve your community by opening a book store in a shipping container. In your book store, you can stock newspapers, textbooks, greeting cards, and more!
If you live in an area where there are a lot of students and office staff, you could do well. Make sure to do your research before opening up a book store. You will want to ensure that your area has a good market of people who would come to your location.
If you open a book store with WiFi, a place for people to study and work, and a built-in coffee shop, you will beat your competition! Again, make sure that you research areas before you start to build.
5. Hotel
You have the opportunity to create an eco-friendly hotel with shipping containers that offer a unique and aesthetically pleasing design. You can create an industrial-themed hotel or a solar-powered hostel with a shipping container. You will attract different types of customers with your superior and unique designs.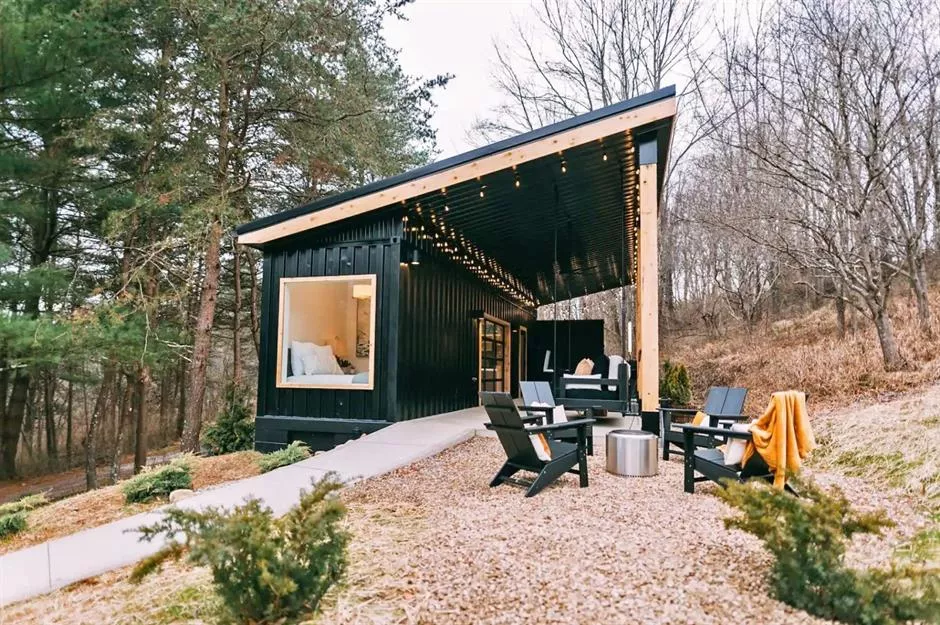 6. Smartphone Accessories Shop
If you are a tech enthusiast who loves to sell all things related to smartphones or other portable devices, you can open a smartphone accessory shop in your city. You can sell smartphones, phone cases, data storage devices, external batteries, and other accessories.
As with any business concept, make sure that your area is a good market for this type of business. You will most likely do well in areas where students and young adults like phone cases and who may need to buy a spare charger.
7. Pop-up Shops
Pop-up shops are a trend that many seasonal and larger retailers use to gain business or target a particular audience. If you would like, you can have a pop-up shop that is only open during certain times of the year to meet client demands.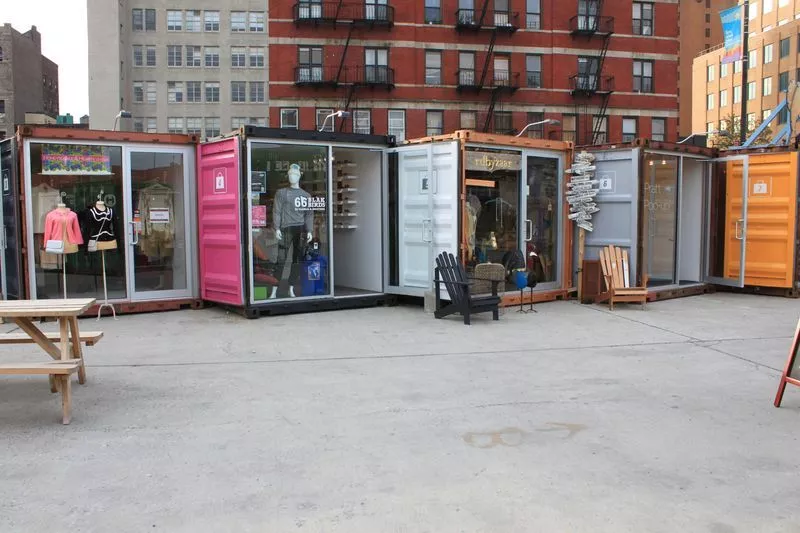 For example, if your niche is fireworks or holiday items, you can open around those holidays to help meet the demand for those things.
The biggest perk of using a shipping container to meet your business needs is that you can transport your container wherever you need it to go. You can place the container wherever you need to put it if your building is up to code and follows your local requirements.
8. Bar or Restaurant
Starting a bar or a restaurant out of a shipping container is an up-and-coming, trendy option. Shipping containers can easily be converted into a restaurant or bar to give the space a unique and industrial feel. This also allows you to be creative with your color and designs. You also will save a lot of money with your start-up expenses.
Depending on your location, you can place your container on any available plot of land, making it very easy to create an inside-outside concept. You will also most likely stand out from the other bars and restaurants in your community! Ensure that you meet your local requirements for alcohol and food licenses to ensure that you are up to code and don't violate any rules and regulations.
9. E-Commerce Workspace
More and more online e-commerce businesses are developing as more people start to work for themselves and start their passions. Regardless of your niche is in selling clothes or if you sell crystals, you will most likely need some space to work and store your inventory.
With a shipping container, you can create a layout for your building to have one side for inventory and the other for you to work out of. If you need to meet clients, you can have them meet you on the office side.
10. Studio or Workshop Space
Are you considering opening a business centered around a specific skill? Many people teach others their crafts such as photography, music, carpentry, etc. Instead of holding workshops at your own home, you can build your own space with a shipping container.
Teaching a skill can easily be a lucrative endeavor, especially if there is a demand for the talent you possess. Shipping containers give you the ability to have a designated area to teach others without spending too much on renting an office.
11. Art Gallery
To showcase an artist's best work, they will need a designated space for others to come and enjoy their creations. On average, artists don't have the proper cash flow required to pay for a rented space on an ongoing basis.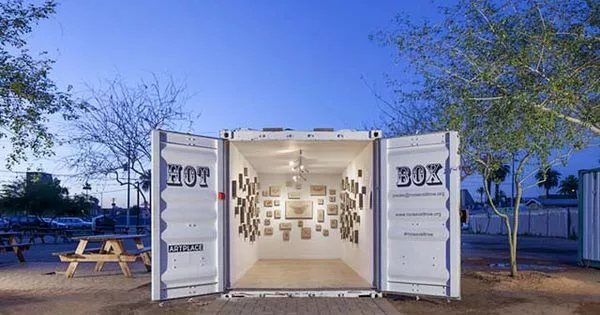 To help with that, you can opt for a shipping container. These containers allow artists to use the space either permanently or for a specific period of time.
Some container suppliers allow their customers to rent these containers on a month-to-month basis if needed. You can also work with a supplier to deliver your container and remove it depending on what you need.
12. Farmer's Markets
You can start a shipping container business selling fresh produce if you are someone who likes to partake in farmer's markets. Shipping containers are waterproof and are very popular for farming and agricultural needs. You can use your container to set up shop as a farmer's market, or if you have a farm, you can use a container as a storage space.
13. Real Estate Office
Real estate agents constantly move, showing properties to new clients in different locations. These agents also need a small space for their clients to meet with them to sign contracts or go over possible homes.
They also most likely need a space to work on other administrative tasks. Shipping container offices are fantastic for real estate agents because these containers are easy to move, inexpensive, and are customizable.
14. Repair Shop
There are tons of skilled people in America who run their own repair shops. These professionals usually need space to service their client's needs. You can easily convert a shipping container into a bike repair shop or a DIY shop.
Other ways you can convert a shipping container:
Auto repair shop
Computer repair shop
Phone and tablet repair shops
There are so many different possibilities that you can come up with. If you fix furniture or offer upholstery services, you can do so with a shipping container.
15. Event Space
Do you need space to host and plan events? Several different small businesses rent out their space to the local community to use for their events. For example, if someone needs space for a small conference, music event, or to host professional workshops, they will want to be able to reserve space for their guests. With a shipping container, you can create a fun and interactive space for your clients to use for their events.
Opening a Business Effectively
Before you can even start creating your own business, you will need to create a solid business plan. A business plan is a document that details your new company's road map. It will help you plan for your business's future and guide you on a path to success while avoiding any problems as much as possible.
The plan will most likely outline your business' foundation and how you plan to grow it in the upcoming months and years. You will need to have an executive summary that explains your purpose for writing the business plan and the purpose of your business.
In this summary, you can also put information on how you may need an investor or business partner to help bring your vision to life. When planning a business, you will need to consider the financial aspect of getting started. Put a financial section in your business plan that showcases accurate and timely forecasts on your industry of choice.
Review Your Competition
Every business has competition, right? The competitive edge is what keeps businesses running and thriving. Agile companies almost always look for ways to improve themselves to keep their successful streak going. So even if you are still in the initial phases of starting a business, it helps to know a lot about your competition and how they are successful in your industry of choice.
When scoping your competition, it helps to look at their strengths and weaknesses. What areas are they excelling in? What areas do they lack?
How can your business fill these needs and stay competitive? Make sure that you study your competition online and in person. Please pay attention to how they market and promote themselves to their target audience.
Secure Insurance, Licensing, and Certifications
There are several different insurances, certificates, and licenses that you will need to start your business. For example, if you have employees, you will need to make sure you have health coverage or liability coverage in the event they get hurt while on the job. You also want to have insurance policies to protect you if someone tries to sue you or claim that you've done something wrong.
Again, depending on your business's type of industry, there may be certifications or licenses needed to start your business. Ensure that you do your research to ensure that you have all you need before you open to the public.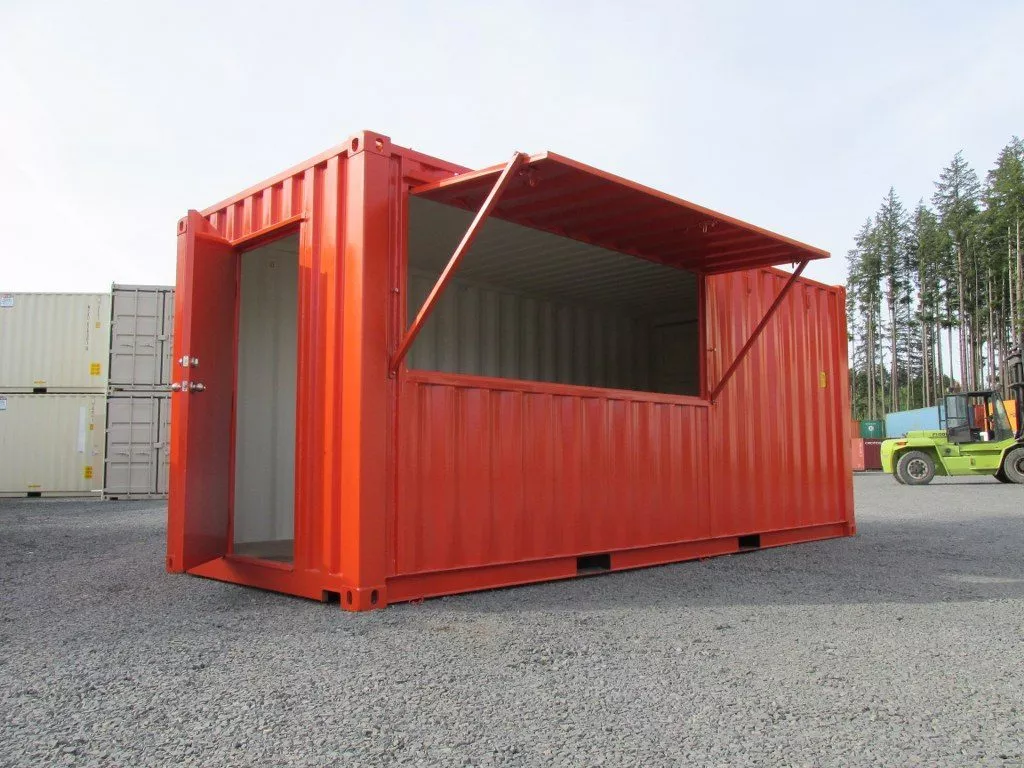 Start Small
If you don't have any additional funding secured or investors to help you, you will need to start small. Once you gain more profits and can scale your business, you can think about hiring more people or buying more containers.
Once you get a sense of the demand of your business, you can then act on that and grow your business. The last thing you want to do is hire too many people or have too much inventory on hand that you can't use.
Start Your Own Business Today!
Starting your own shipping container business is an excellent way to minimize your business expenses. When you rent out spaces from property owners, you will need to pay monthly for rent and other utilities, and you may not be able to customize the space the way you want.
With your own shipping container, you can control how much or how little you wish to spend on renovating your space. If you are ready to start your own business, contact us now! Contact us now if you are looking for a shipping container in Salt Lake City or ship from Salt Lake City.