53ft High Cube Steel Shipping container
Our largest shipping container size, these 53 ft steel cargo containers are high cube, they are one foot taller than standard shipping containers and six inches wider than standard shipping containers. This extra width allows you to store items that are 8ft wide inside the container, perfect for storing 2 pallet width, 8ft wide material like plywood and lumber. We offer professional ground level delivery service and container relocation service of our 53ft rail containers. Used primarily for domestic over the road and rail service, our 53 ft containers are secure and watertight, with all steel construction great for temporary or permanent storage.
DRY BOX has been a leading Supplier of used 53ft shipping containers for over a decade, DRY BOX is one of the few companies who have the proper trailers to legally do ground level deliveries of 53ft Cargo containers. If you need a 53ft container at dock height or want a modified 53ft Conex mounted on a chassis for road service DRY BOX can also provide a used 53ft Container chassis for your project. We encourage you to call one of our sales reps to discuss your particular 53ft project.
-Low corrosion due to rail use instead of ocean going Frieght.
-Largest intermodal Cargo Container available in North America
-6 inches wider than ocean going containers
-Only container with over 8ft interior width
-Limited availability
-can ship or locate anywhere in the continental US
Modifications available
-Accessories available
OTHER SIZES AVAILABLE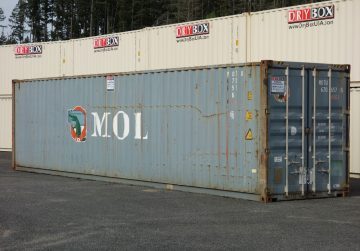 40ft high Cube Shipping Container (CW-Cargo Worthy Condition)
Cargo worthy containers have been retired from the shipping industry based on their lease ending, not a structural defect, and are typically ten to sixteen years old. We recommend Cargo Worthy containers as the lowest standard for storage of household goods. Cargo worthy Sea Containers can be inspected and re-certified to return to international shipping […]