4 Container Home Floor Plans That Work Every Time
The average cost of owning a home in the state of Washington is very high.
According to Zillow, it's currently $578,460, while a multi-container home can go as high as $250,000 for a 3-bedroom home. Thus owning a traditional home in Washington is 231.4% more expensive than a large container house.
Owning a container home is more affordable than traditional housing, but for the space to work for you, you must have a floor plan.
A shipping container home floor plan is your guide on how many rooms your space can accommodate and where they will be located.
Why is this important? 
There are different shipping container sizes. So, you have to combine a few to build a spacious home and a floor plan helps you allocate all the available space. 
Let's look at the four container home floor plans you can consider for your project.
1. Cabin-Style Container Home
A cabin-style floor plan is perfect if you are looking for a simple yet cozy, rustic gateway experience from the breakneck pace of city life. It helps you welcome all the breathtaking views around you. 
For instance, you can make modifications to your shipping container and have large windows installed. Then you can ensure these large windows overlook a scenic landscape where you sit and gaze out as you drink your morning coffee or do the dishes. 
Additionally, you can style the space with a couple of plants and wooden sliding barn doors for each room to create a haven that feels like a warm, natural embrace.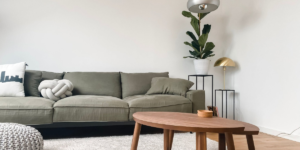 2. Minimalist Floor Plan
A minimalist, open floor plan embraces simplicity and functionality. Every inch of the space and decor serves a purpose. 
With this style, you don't need to include a large bedroom space if you don't need it. What you need leads the way for designs in all your spaces. With a minimalist floor plan, you can have large windows all over your container home to let plenty of natural light stream in.
Since a minimalist container floor plan oozes elegance and tranquility, you can have all the walls painted white throughout the living space as it merges seamlessly with your open floor plan kitchen. Then to add some contrast, you can have the kitchen cabinets in a gray shade to make the space look bigger when the natural light shows up each day.
Since a minimalist container floor plan creates multifunctional space, a counter space may double as a dining table but remains discreetly hidden until it's needed for mealtime. For instance, you could have a table connected to the counter space using folding hinges, or extendable brackets that you can easily access when you need more counter space or have more guests around.
Additionally, you could use built-in storage areas that act as a sitting area when you have friends or relatives over.
When you buy a shipping container, remember that less is truly more when designing your container home with a minimal floor plan. Your multifunctional, minimalist space helps you get rid of clutter and maintain a clean home long-term.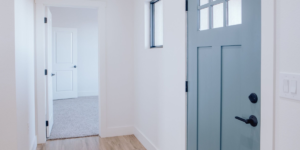 3. Open and Spacious Floor Plan
The open floor plan is spacious and a dream of every interior designer and homeowner. 
With an open floor plan, you are not confined by walls. Instead you have the freedom to design the space however you see fit.
The open container floor plan also ties in together nicely with minimalism.
Picture walking in the front door and being welcomed by the breathtaking yet soothing sight of soft white walls. The kitchen has white upper cabinets, granite countertop and subway tiles for backsplash. For contrast, the lower kitchen cabinets are black.
Then your gaze is drawn to the living area where you have a cozy sofa, silently beckoning and a dining table positioned perfectly to complement the wooden floors. 
Large windows let you soak in amazing views, and when you need to access your yard or balcony you have huge sliding glass doors. 
For a minimalistic touch, you include lighter-toned curtains—plain white or light gray—with a few throw pillows for comfort without adding clutter.
The best part?
You do not have to worry about the container size as the open floor plan goes well with any container size. However, the 53ft steel shipping containers take the open floor plans to new heights since it has maximum interior space.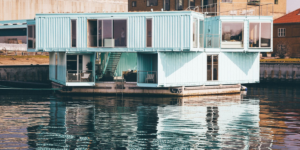 4. Two-Story Floor Plan
Two-story container home floor plans come with a ton of benefits compared to single-story as shown in the table below:
| Feature | Two-Story Container Homes | Single-Story Container Homes |
| --- | --- | --- |
| Square Footage | More than 2000 sq ft depending on how high you want to build | Less than 2000 sq ft of floor space |
| Cost | More expensive since the average cost per square foot for a custom-designed container home is $325 | Less expensive |
| Views | Upper-level rooms offer better views and more privacy | Views are dependent on the surrounding landscape |
| Functionality | Allows for more rooms, each with dedicated purposes | Limited to fewer rooms and multifunctional spaces |
To achieve a two-story layout you can use multiple containers from Dry Box for your remodeling project by connecting multiple containers either horizontally or vertically. Then your contractor can reinforce the walls and roof to enhance the structural integrity using columns, steel or wooden beams.
The beauty of two-story floor plans is that you don't have to worry about the land size you have to build on because you expand upwards rather than outwards.
By expanding upward, you gain more space for more rooms and specialized zones such as a home office, guest bedrooms, and a larger bathroom with a bigger shower and possibly a tub.
Then on the lower level, you can have an open plan that accommodates the kitchen and living room. But no matter how you plan your two-story container home, there is always the space to include more rooms without compromising on other areas.
Use Dry Box for Your Container Home Project
Regardless of the home floor plan you choose, at Dry Box we have nine shipping container sizes to suit your design preferences and needs.
These containers are either new or used but in good condition as we source directly from shipping lines.
Then whichever size you select, we deliver to you if you are in Idaho, Montana, Nevada, Oregon, Utah, Washington and Wyoming.
But you don't have to take just our word for it, our expertise in the container industry speaks for itself through the satisfaction of our valued customers.
Get a free shipping container quote from Dry Box and enjoy the beauty of working with a "blank canvas" that your contractor can transform into a cozy home.
Please Note: Dry Box USA does not offer remodeling or contracting services for containers. Our blog content, including this post, is for informational and educational purposes only. It's up to you and/or your contractor to turn your used or new container into the finished product that you want.